V&C Infinity Enterprise Sdn Bhd
P-8-3, Pusat Perdagangan
Bandar Bukit Jalil,
Persiaran Jalil 3,
57000 Bukit Jalil,
Kuala Lumpur, Malaysia.

+6017-2982167
+60172982167
Baofeng UV-B6 Dual Band UHF VHF Walkie Talkie
Walkie Talkie --- Baofeng ---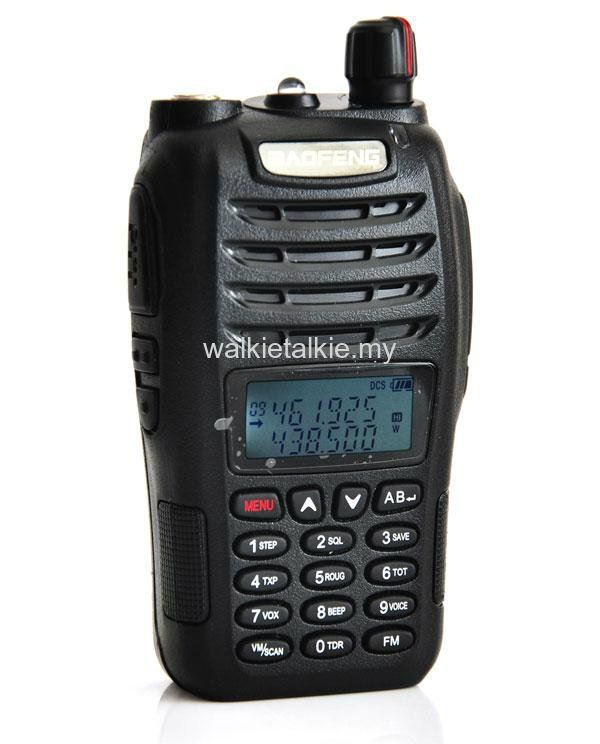 Description:
The BaoFeng UV-B6 two-way radio is the newest style by BaoFeng. It has multi-functions, such as dual band, dual display, dual watch, its performances are excellent and it is solid and durable. It has extra advanced functions such as Noise Reduction, U/V Cross Band Dual Watch and 1750Hz Relay Forwarding which make it a much more potential transceiver, It is really a cost-effective LCD dual band two-way radio.
Functions:
1. Output : 5W/2W
2. Frequency Range: 136.00-174.00 MHz
400.00-520.00 MHz
3. PC or Manual Program
4. Radio Function
5. Voice Prompt
6. DTMF Code
7. 50 CTCSS and 104 DCS Codes
8. Time-out Timer (TOT)
9. Step Frequency£¨5,6.25,10,12.5,20,25KHz£©
10.Battery Saving
11.VOX Function
12.Busy Channel Lock Function
13.Low Battery Warning
14.Dual Band, Dual Display and Dual Standby
15.Auto Back Light
16.3 Scanning Ways (Time, Carrier wave, Search )
17.PTT-ID (Press PTT to transmit code, release PTT to transmit code, or both can transmit code)
18.Frequency Difference Setting
19.Keypad Number directly choose the Menu Function
20.Reverse Frequency Function
21.Emergency Alarm
22.High &Low Power Switchover
23.Priory Scanning Function
24.Wide/Narrow Band Selection
25.ANI Code Edition
26.Relay Forwarding Confirmed (1750 HZ)
27.Noise Reduction
28.U/V Cross Band Dual Watch
Specification:
Frequency Range:

136.00-174.00 MHz

400.00- 520.00MHz

Storage Channel

99

Step Frequency

2.5/5/6.25/10/12.5/20/25KHz

Rated voltage

DC 7.4 V

Battery Capacity

H-1800 mAh

Battery Life

About 10 Hours

Frequency Stability

±2.5ppm

Work Temperature

-20 ¡æ to +60¡æ

Frequency Combination

PLL frequency synthesis

Antenna Impedance

50 Ω

Wok Mode

Same Frequency simplex Operation or Different Frequency simplex Operation

Dimension

116x58x 36 mm (Excluded Antenna)
Transmitter
| | |
| --- | --- |
| Output Power | 5W/ 2 W |
| Modulation Mode(W/N Band) | FM (F3E) |
| Maximum Frequency Deviation (W/N Band) | <5KHz(W), <2.5KHz(N) |
| Spurious Power | ≤7.5 µW |
| Adjacent channel power | 65dB (W) ,55dB (N) |
| Spurious Radiation | <-60 dB |
| Audio Distortion | <5 % |
| SNR | 45dB(W), 40dB(N) |
| CTSCC/DCS Frequency Deviation(W/N Band) | 0.7±0.1KHz (W), 0.4±0.1KHz (N) |
| Modulation Sensitivity | 8-12mV |
| Transmitting Current | ≤1200mA |
Receiver
| | |
| --- | --- |
| Sensitivity | £¼0.20 µ V (12dB SINAD) |
| Audio Power | 1 W |
| Inter modulation Interference Resistance | ≥65dB (W), ≥55dB (N) |
| Adjacent channel Sensitivity (W/N Band) | ≥65dB (W), ≥55dB (N) |
| Audio Distortion | 5 % |
| Receiving Current | ≤ 400m A |
Package:
1x BaoFeng UV-B6 Two-Way Radio
1x Antenna
1x Battery
1x LI-ion charger
1x Belt clip
1x Hand strap
1x User manual