V&C Infinity Enterprise Sdn Bhd
28, Jalan Serindit 2, Bandar Puchong Jaya, 47100 Puchong, Selangor, Malaysia.

+6017-2982167
+60172982167
GY561 Digital Frequency Counter & Power Meter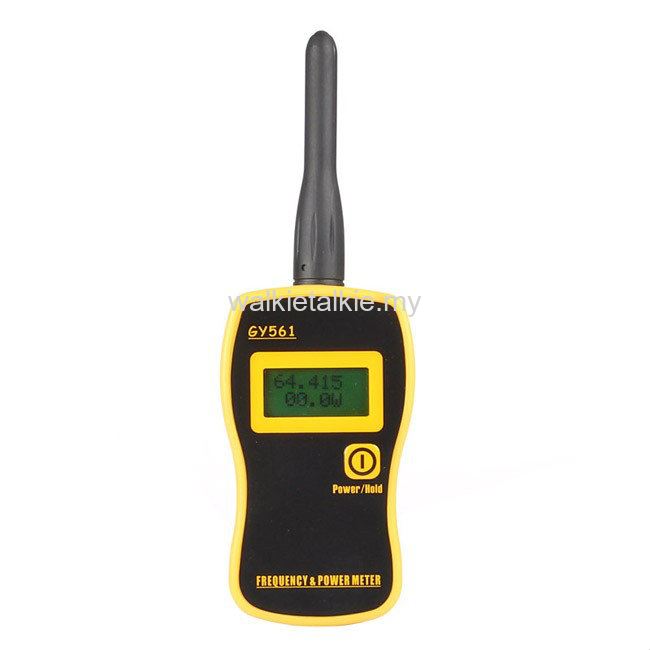 Description:
GY561 frequency power dot matrix liquid crystal display used in the table, mainly for the measurement of radio transmitting equipment (such as handheld radios, vehicle-mounted radio) output power, and frequency. As the built-in load, making the table more convenient to use, greatly improving reliability. Only need to measure the frequency of the occasion, an external antenna can be non-contact measurement.

Functions:
Show: LCM display, frequency resolution 0. 00MHz (1MHz). Power resolution 0.1 MHz
Range: automatic conversion of power measurement range, the measured signals above 500 MHz Power Display "00.0W" measurement model is lower than 1 MHz, the frequency display will no longer be accurate.
Calibration adjustment: open the cover, showing two built-in regulator located in the lower left is the frequency of calibration capacitors, in a reference instrument, you can calibrate the power measurement is below the benchmark adjustment, the factory has been adjusted (5.000V ) do not be easily adjusted.
1. Frequency measurement: 1 MHz --- 2400 MHz
2. Power measurement: 0.1W-- 50W
3. Input impedance: 50
4. Accuracy :140-170 / 400-470 better than 10%
5. Sampling time: about 0.2 sec.
6. Operating temperature :0-40 degrees
7. Battery: three 1.5V AAA alkaline batteries
8. Current consumption: about 100MA
9. Auto power off: approximately 80 seconds

Package:
1x GY561 Frequency Counter
1x BNC adaptor
1x Antenna
1x English Operating Manual