V&C Infinity Enterprise Sdn Bhd
28, Jalan Serindit 2, Bandar Puchong Jaya, 47100 Puchong, Selangor, Malaysia.

+6017-2982167
+60172982167
Walkie Talkie Throat Mic Vibration PTT Headset Earpiece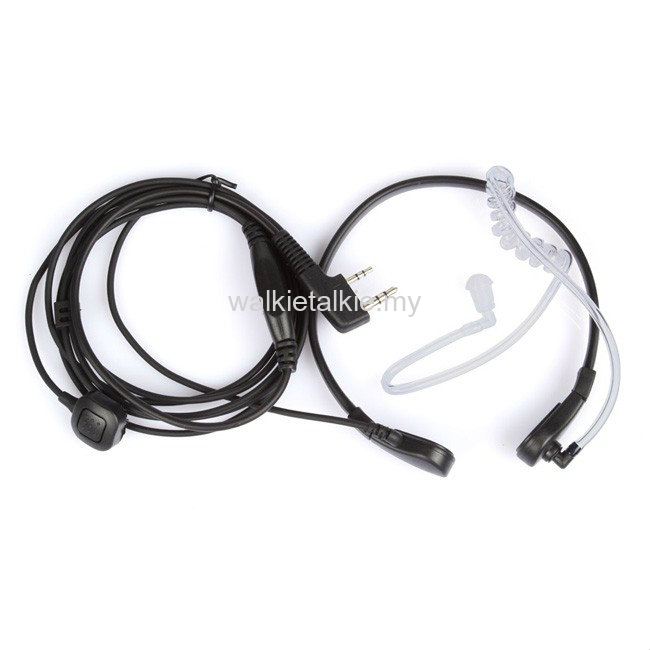 Quick Overview
Material: Plastic
Double Jack: 2.5mm+3.5mm
Total length: 1m
Black finger line Length: 57cm
Transparent line Length: 40cm
Color: Black+Transparent(as pictures shown)
Weight: 90g

Description:
This is brand new Throat Vibration mic for 2-pin type radios.100% new, factory packed and never been used. This is the best companion for outdoor communications with your HAM friends in war game, paintball, training, hunting, motorcycles. Perfect for security/surveillence purposes too. With this 2-wire throat mic, you could get rid of the background noise when communicating with your partner. Different from the traditional microphone which transmits sound wave in the air, the throat mic absorbs vibrations from the throat and transmits them to the ham radio. The magic comes like this: Mechanical vibration from throat => electric signal => transmitted to radio transceiver

Since the microphone transmits directly from your throat, it is not sensitive to your background noise. This is exceptionally ideal for usage in high ambient environment such as driving, riding motorcycles and bicycles. With the best-quality transparent acoustic tube that could hardly be detected by people around you, this is also perfect for surveillance purposes and security at airports, casinos, crowd control at conventions and concerts, and any working environments requiring discreet communications. The throat mic could be easily hidden under the collars too.

Functions£º
1. Excellent Sound Quality: You may found cheaper throat mic in the market, but sound quality tells the difference. This throat vibration mic and earphone has excellent sound quality in both transmission and reception. We have tested a number of similar products and this one is simply the best in transmitting voices in their authentic tones.
2. Snug Fit Transparent Earbud: The earbud is designed in a way that fits your ear canal and it is hardly detected by people around you.
3. Fine Transparent Acoustic Tube: Connecting directly from the throat receiver, it is perfect for discreet & clear communications.
4. Finger PTT Switch: The back of the PTT attached with a velcro for attaching to your clothes. A velcro belt is provided in the package which could wrap the PTT around your finger for descret communications.

Specifications:
Material: Plastic
Double Jack: 2.5mm+3.5mm
Total length: 1m
Black finger line Length: 57cm
Transparent line Length: 40cm
Color: Black+Transparent(as pictures shown)
Weight: 90g


Compatible with Two-way handheld radio models. (Almost suitable for all 2 pins two-way radios)

BaoFeng£º UV-5R, UV-5RA, UV-5R Plus, UV5RE, 888s, UV-82, GT-3
WouXun: KG-659, KG-669, KG-669 PLUS, KG-679, KG-679 Plus, KG-689, KG-689 Plus, KG-UVD1P, KG-UV6D
PUXING: PX-666, PX-777, PX-777 Plus, PX-328, PX-888
Kenwood: TK-240, TK-250, TK-255, TK-260, TK-260G, TK-270, TK-270G, TK-272G, TK-278, TK-278G, TK-340, TK-349, TK-350, TK-353, TK-360, TK-360G, TK-370, TK-370G, TK-373G, TK-378, TK-378G, TK-430, TK-431, TK-715, TK-2100, TK-2102, TK-2107, TK-2118, TK-2160, TK-3100, TK-3101, TK-3102, TK-3107, TK-3118, TK-3160

Package£º
1x Throat Vibration mic with transparent acoustic tube
1x Finger PTT switch